Ventilation and Extraction
Superior performance and stylish design make our ventilation and extraction systems hard to beat. Our commercial systems deliver all the reliability with even better energy efficiency. Powerful enough to remove heat, grease, odours and potentially harmful gases IE Carbon Monoxide. Ensuring that your commercial kitchen and cooking spaces are safe and comfortable for staff to work in.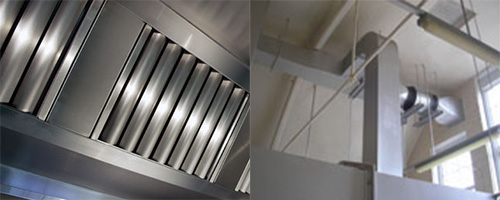 We can also advise on new construction and installations with regard to Building Regulations, which now cover not just ventilation rates, but also the energy requirements and the installation practices of ventilation equipment.
We use top quality products and provide extended maintenance and support beyond most manufacturer's warranties.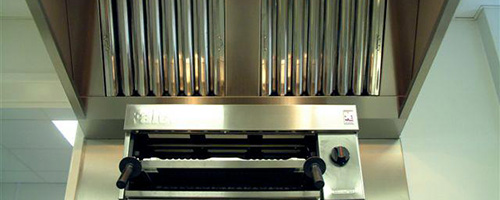 Our systems are designed to fit your requirements and we specialise in large scale kitchen projects for restaurants, commercial premises, sports stadiums and hotels where the look is as important as performance. Our work has been used in complete turnkey installations in the food and health industries and has converted industrial spaces into open plan offices and workshops.
Our qualified, experienced engineers and all our installations comply with all current gas safety regulations (BS-6173).
We also supply the following systems:
Gas interlock
Heat recovery
Odour control
Fire suppression
Noise control (noise attenuation/fan silencers)
Air replacement
Call us now for more details 0161 626 2202
One of the first carbon neutral buildings in the country – one of the few 100% LED lit 
Latest News
19 Apr 2016

We're always hard at workTake a look at our work section to see what we've been working on. Click here There's pr...

19 Apr 2016

All the latestFind out what we've been up to by clicking here Our newsletter is free to read and there...

25 Mar 2016

RemployWe were delighted to welcome Remploy recently to take a tour of the brand new training kitchen deliv...
Contact Details
Unit E, Westwood Industrial Estate, Chadderton, Oldham OL9 9LZ, United Kingdom
0161 626 2202